In case you haven't seen a few of my other things, these battle reports are all in practice for WargamesCon in Austin, TX which I'm going to. Been trying to figure out which iteration of my list to take to this convention and think I've narrowed it down. You can find a copy of my list
here.
My opponent Jon played a Vampire Counts army that was not what I expected. I thought he was going to bring a standard Zombie raising army with dual Mortis Engines, etc.. instead, he opted for a different list that had heavy cavalry in it. 5 Hex Wraiths, 5 Blood Knights, 10 Black Knights, 2 units of 30 Skeletons, 2 units of 30 Zombies, 2 Spirit Swarms, a hero Vampire on horse, a lord Vampire on Horse, and a Wight King BSB on horse.
Magic -- I took 3 Plague and 1 Ruin and ended up with the Dreaded 13th, Vermintide, Plague, and Death Frenzy. Not a good selection. Priest took Pestilence Breath. His level 2 had Invocation and Wind of Death, and his Level 4 had Invocation, Van Hels, Hellish Vigor, and Curse of Years.
We opted to play
Watchtower
to give me another scenario that would be tough. Jon won the roll to go first, but had nothing that could fit in the WatchTower. This became a problem for him, as it allowed me to automatically go first.
Deployment was fairly standard.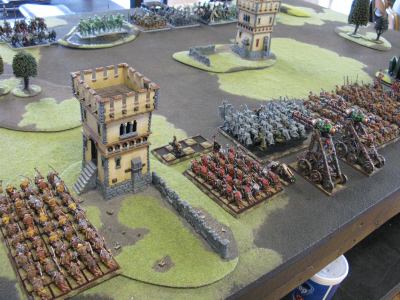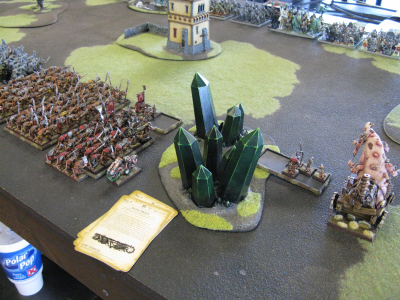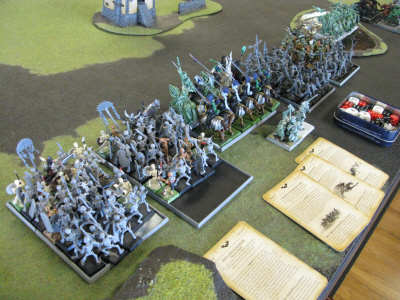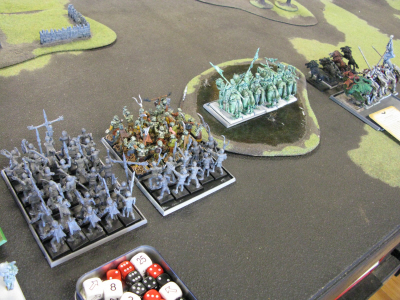 Skaven Turn 1
Everything advances. 2 Slave units run up to the Watch Tower, bunker off to their right somewhat. Plague Monks to their left. Giant Rats, Slaves, and ClanRats on left flank move into positions in order to threaten things moving towards Watchtower.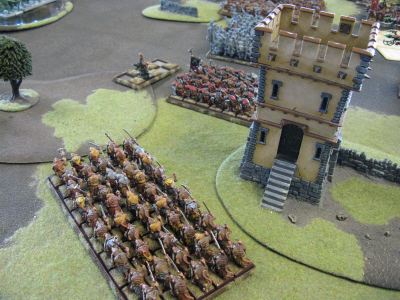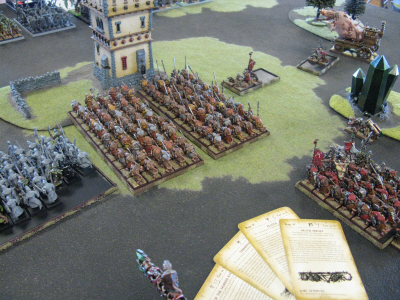 Magic -- none in range.
Shooting -- I try to whittle down the Hexwraiths so they cant' tie up units. I fire a PWM at them and kill 1. I shoot a cannon at them as well and kill another. I try to cannon snipe the Level 2 out of the Blood Knights, but he ward saves.
VC Turn 1
His Dire Wolves charge my Giant Rats. I wanted to flee with them, but didn't want to chance panicing the Clan Rat unit behind them, so they held. His army advances as well. He keeps the Hex Wraiths back a bit, so the Plague Priest's magic weapon can't kill them. Zombies move up to charge the building.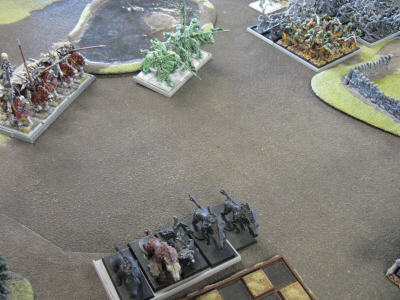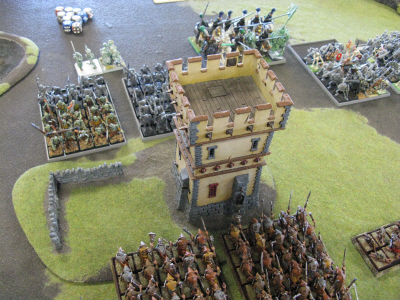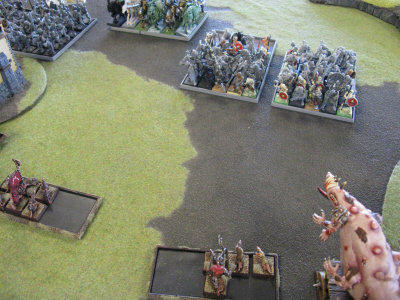 Magic Phase -- 11 to 7 (I channel 1). He does Curse of Years on my Plague Monks, which I let go through -- killing 5. I dispel Vanhels, in order to prevent him from moving things to threaten flanks. He fails to cast a 12" Invocation.
Close Combat -- Giant Rats and Wolves each exchange a wound, Giant Rats break and run away. The Dire Wolves pursue into the Clan Rats.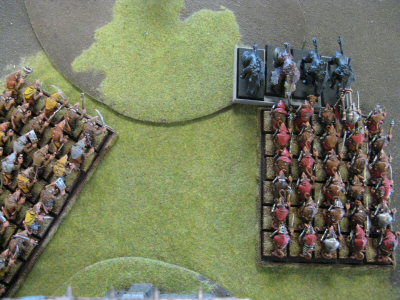 Skaven Turn 2
On the right flank, I have a Giant Rat unit and my HPA facing 2 30 man Skeleton blocks. The one directly in front of the HPA has the Banner of Eternal Flame. Also, I can't pivot the HPA to go after the second Skeleton unit because the Giant Rat unit is in the way. Because of this, I declare a charge from the GRs to the flaming Skeletons. The HPA fails to make it into the other Skeleton unit, however.. uh oh.
1 unit of Gutter Runners come on to start shooting the Blood Knights.
https://cache.nebula.phx3.secureserver.net/obj/NjIxRjE1MjMwMEVCNkVBNzIzQUM6NjEwN2FmYThiNTg3ZDE5MWY3ZTA4ZTRlZjBjZDkwM2Q=?u=0a1e3fed-5a46-46af-baf2-79ee686716e9
My right unit of Slaves enters the WatchTower.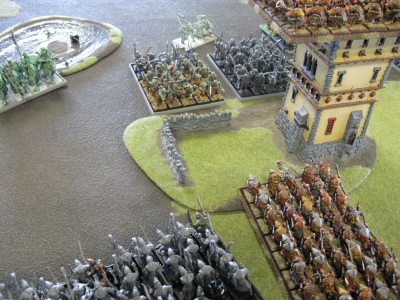 Magic Phase -- 5 dice to 4. I decide to simply get rid of Curse of Years on the Plague Monks.
Shooting Phase -- PWM at the Blood Knights, nothing. Other PWM at the Black Knights -- misfire 1. Whoomph! Kills 3 Clanrats in bunker unit. Cannon misfires 6 at a Zombie Unit. Other cannon way overshoots the same Zombie unit, killing 1. Gutter Runners kill a Blood Knight.
Close Combat -- Dire Wolves and Clan Rats both whiff, which kills 3 wolves. Giant Rats fail fear, which allows the Skeletons to kill 4. They panic and run away. This also panics the HPA and it runs away as well for 10".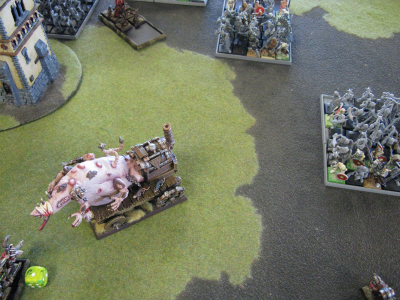 VC Turn 2
Non Flaming Skeletons charge the HPA -- causing it to flee through my Bunker, killing 4 Clan Rats. The Flaming Skeletons charge my Mortar -- flee.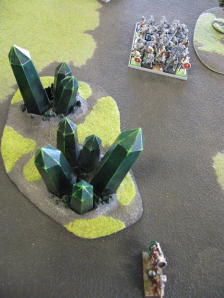 The Zombies charge the Watch Tower and the Black Knights charge the Giant Rats in their way.
The Blood Knights and the Hex Knights both charge my Plague Monks -- but the Blood Knights fail to roll a 6 on 3 dice, leaving the HexWraiths to charge in alone.....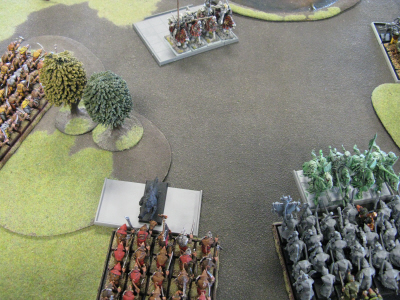 Zombies and Swarms reposition on my left.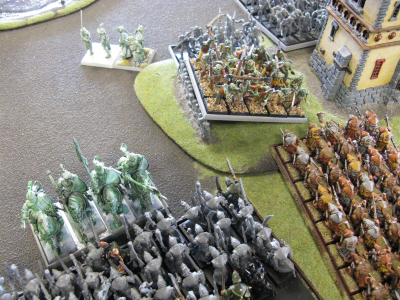 Magic Phase -- 9 dice to 7 (I channel 1)
He does a 12" Invocation from his Level 2 -- which I fail to dispel. This resurrects 3 dogs, a Blood Knight, and a Hex Wraith. His level 4 then does a 12" Van Hels which I don't stop. This allows him to advance his Spirit Swarms and other Skeletons.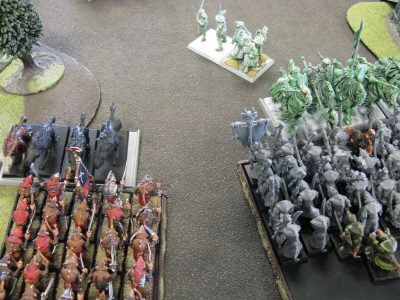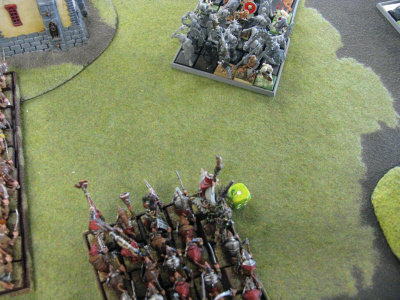 Close Combat -- Black Knights obliterate the Giant Rats and reform. Plague Priest kills 3 Hex Wraiths. Their Champion kills the Monk Champion and then crumbles. Slaves enjoy hitting SOMETHING on 3s and kill 3 Zombies, losing 2 Slaves in return. Zombies lose and back up an inch. Clan Rats kill 3 wolves, which then crumble.
[hr]
Skaven Turn 3
Slaves charge the Blood Knights in the flank. That failed charge doomed his whole right side of the battle field. My Plague Monks charged the Spirit Swarms which magically appeared in their way (literally) in order to get to the Blood Knights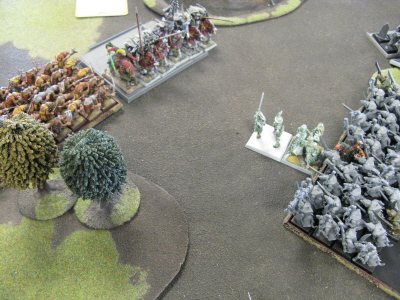 HPA and PWM rally. Doomlock gets out of the unit to shoot the Skeletons in front of the Bunker.
Magic Phase -- 10 to 5. I plague the Skeletons in front of the Bunker, killing 12. I then try the Dreaded 13th on them and get it off -- but he scrolls it.
Shooting Phase - I start pounding the Blood Knights, since they're in combat with Slaves. I kill 2 via the PWM and another from a Gutter Runner. I Doomrocket the Skeletons in front of the bunker for 13. First cannon misfire 6's again, second cannon kills 6 Zombies.
Hand to Hand. Plague Priest only does 1 wound to the Spirit Swarms... this leaves them with 1 wound, holding them up from charging the Blood Knights to help.
Level 2 Vampire makes way to kill slaves -- killing 3. Slaves win combat by 1 but the Blood Knights reform.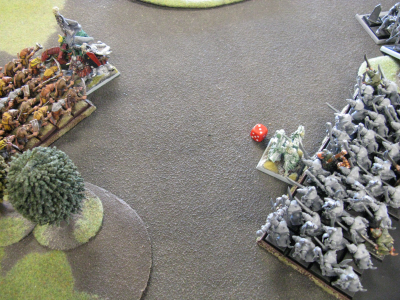 VC Turn 3
The last 5 Skeletons in the unit I shot the DoomRocket at charge the Doomlock seeking Revenge. He flees, which clears the path for the Black Knights to charge the bunker.. This is bad. The HPA is directly behind the bunker, so if I flee, I'm auto off the board.. so...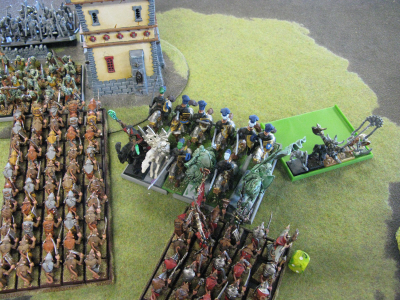 Zombies also charge the Watchtower again.
Magic Phase -- 6 to 4. Level 4 fails to cast a 12" Invocation. Level 2 casts Invocation on the Blood Knights, which I dispel. The Level 4 then casts Hellish Vigor on the Blood Knights (which I didn't catch at the time)
Close Combat -- his Vampire tears through the Lodestone Engineer and 3 Clan Rats. This causes the BSB to pop to the front, which exchanges wounds with his BSB. The Black Knights then kill my BSB. I stay via Steadfast.
The Vampire kills 3 Slaves, but the Slaves kill the last Blood Knight in return! This causes the Vampire to take a wound, as he lost 4 to 3. WatchTower sees 2 Zombies and 3 Slaves die, Slaves stay Steadfast. Left Zombies kill 4 Slaves and lose 6 Zombies. Plague Monks finish off Spirit Swarms and elect to reform facing the Zombies to my left.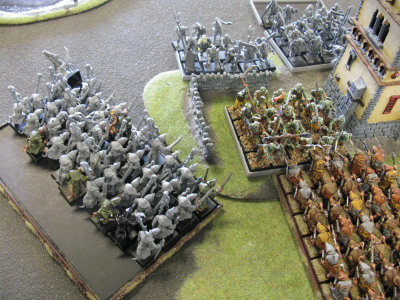 Skaven Turn 4
Plague Monks charge the left Zombies. Clan Rats fail to charge the Level 2. HPA charges 5 Skeletons in an attempt to flank the Black Knights. Second unit of Gutter Runners come on.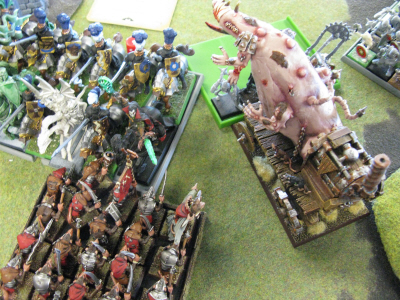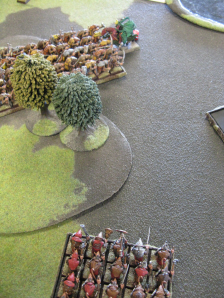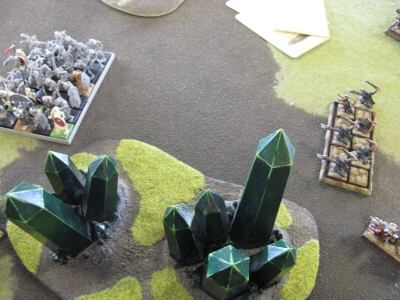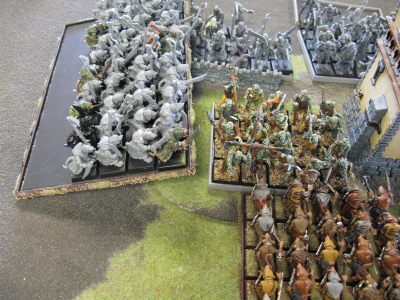 Magic -- 5 dice to 4. Try to plague the Black Knights, knowing I have the lodestone to give myself a Wardsave. But he dispels with double 6s.
Shooting -- PWM kills the Level 2. Other PWM kills 8 Skeletons, Gutter Runners kill another.
Close Combat -- HPA obliterates the 5 Skeleton and Overruns 14", missing the Black Knights. Then, I dont' know if I was a genius or just not paying attention. I elect to do the bunker combat next, which sees the bunker lose combat and break. This gives Jon the option of trying to run down my Grey Seer -- but then puts him into the Giant Slave/Zombie/Plague Monk combat. He knows he may lose the black knights by doing this, but elects to do it anyways to get rid of my bunker.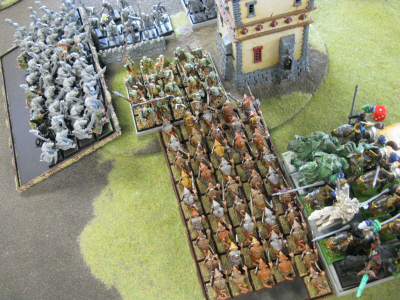 The Big Combat: Vampire issues challenge, Plague Priest goes to rear. Vampire Lord kills 7 Slaves. The Plague Monks pop the Plague Banner and kill 26 of 33 Zombies. Slaves kill 3 more. Rest of Black Knight unit and BSB kill 13 more Slaves. Skaven win by 11, which crumbles the Zombies and Knights other than characters. Slaves reform to face the characters, Monks reform to give myself options.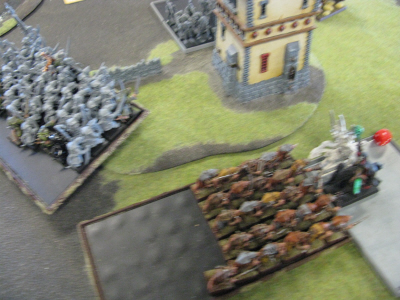 Watchtower combat sees 3 Zombies and a Slave die.
VC Turn 4
Not much movement as almost everything is engaged, although the right Skeletons reform again to face the HPA.
Magic Phase. With me not having the Grey Seer, Jon successfully casts Hellish Vigor, Invocation, and Curse of Years on the Plague Monk combat. The Curse was cast Irresistably, which does a S10 template, killing 8 slaves and not hurting his own models.. uh oh.
Close Combat -- Vampire and BSB kill more Slaves, which do no wounds in return -- and explode. This panics the Slaves in the building -- which flee.... CRAP!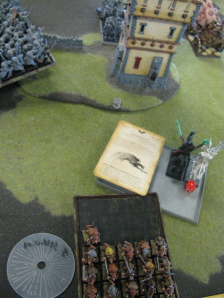 If I roll a 6 here, the game ends and Jon wins, as his Zombies were closest.... luckily, I still can't roll 6s on command -- game doesn't end.
[hr]
Skaven Turn 5
I decide to take a gamble here and have the Monks NOT enter the building. I did this because I was confident the Monks would kill the Zombies I ended up charging them into and the HPA would kill the Skeletons off. I figured the cannons would also kill off at least one of his two characters left. Because of this, the Monks charged the Zombies that had been charging the Watchtower.
Then it all goes to hell. HPA fails to charge the Skeletons -- which leaves him right in the path of the cannons.. oh no... Far right Clanrats and Slaves start running towards the Watchtower in case it gets worse... which, it does, of course.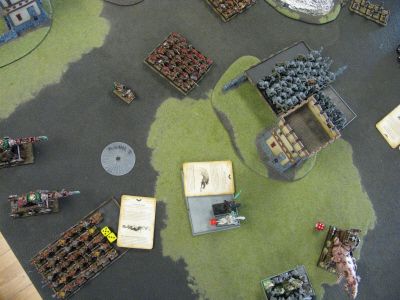 Magic Phase -- 6 to 3, I channel 1. Cast Pestilence Breath on Zombies, killing 3. Didn't bother dispelling the Curse of Years on the Slaves running away, so they lose more models.
Shooting Phase -- Gutter Runners and Mortar kill 6 more Skeletons in front of the HPA.
First cannon shoots the BSB -- hits, fails to wound -- but bounces 10" to hit the HPA for 4 wounds. Second cannon rolls 2 2s for distance.
Close Combat -- Plague Monks kill 9 zombies, losing nothing in return -- but there are 2 Zombies left for him to res if needed..........
VC Turn 5
Vampire and BSB charge the HPA. Skeletons run towards WatchTower.
Magic Phase -- 9 to 7 (I channel again)
He casts Invocation on the Skeletons which I allow. He casts Hellish Vigor on the characters, which I dispel -- he then gets Curse of Years through on the Plague Monks, killing 9 of them.
Close Combat -- General does 1 wound to Lefty, which Feeds and kills the BSB, but fails to wound the Lord. HPA holds but fails to reform.
Plague Monks kill last 2 Zombies and are closes to building if game ends... which it does.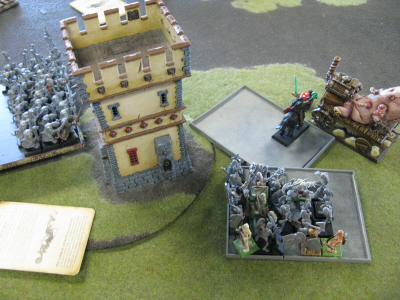 I got very lucky here. Should've had the PMs walk into the building, where they would've stayed all game and won. I got cute and it almost cost me.